OUR STORY
Since 2007 we have called the Port of Virginia home, with locations in Norfolk and Portsmouth. The Century Express Virginia team possesses varied backgrounds to lend inventive solutions to move your freight.  We are accessible seven days a week.  We offer you a competitive edge when it comes to retrieving your cargo to and from the port and on the road to its destination. Our network of relationships within the port community aids us to efficiently manage your cargo through the marine terminals. We have built a reputation as a premier trucking provider in Virginia. Whether you are looking for drayage, storage, or transloading – our talented team is ready to work for you. We believe that "attitude makes the difference" and we have the right mindset to provide exemplary service to you.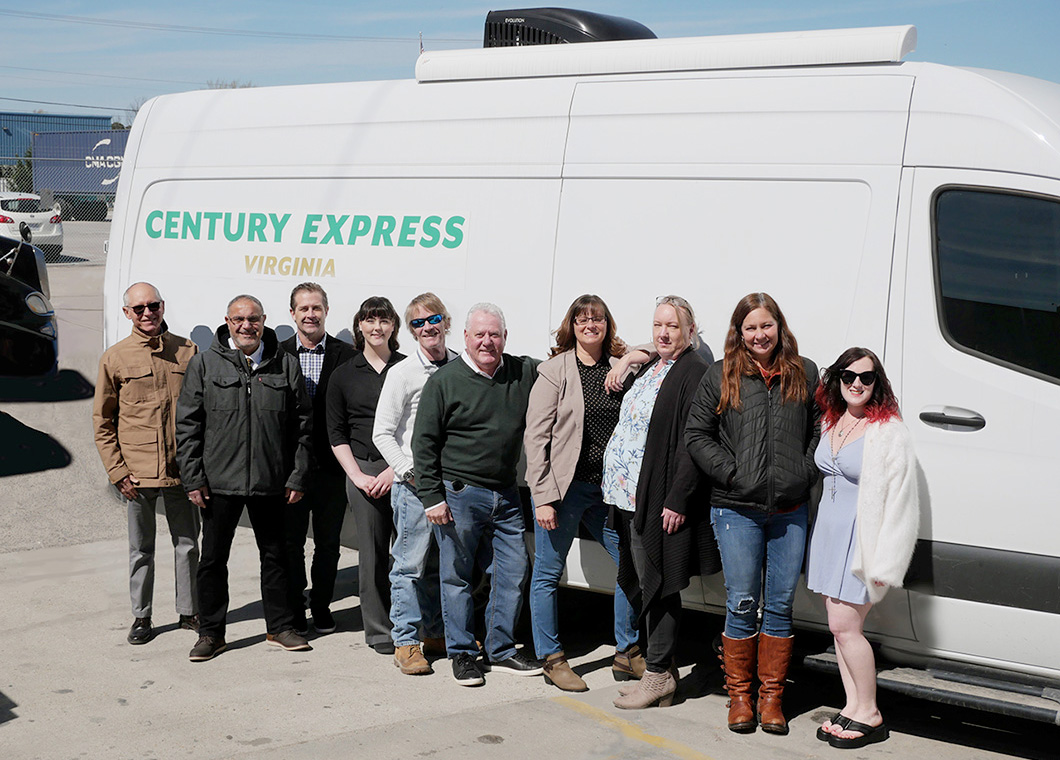 Meet The Audax Team
Our team of transportation experts brings decades of experience in the shipping industry with backgrounds in ocean liners, air freight, domestic transportation, and international transportation. We leverage these abilities to provide superior service for our customers. 

DO YOU NEED TRUCKING FROM THE PORT OF VIRGINIA?
We are available 24 Hours. Contact the Century Express Virginia team today.
Ed O'Callaghan
President
Ed has enjoyed a varied logistics career progressing businesses and people.  He is the founder and president of Audax Transportation, an agent of Century Express Virginia.  He is presently a commissioner on the Board of the Virginia Port Authority.
Paola Salino
Financial Manager
Paola earned her degree from Penn State University and started her career in banking and brokerage in New York.  After re-locating to Virginia Beach in 2001 she had taken time off from her career to care for her 3 children.  Afterwards she assisted in launching Century Express in 2007.  Paola is responsible for managing the financials of Audax Transportation and Century Express Virginia.
Zahi Habre
Driver Payroll/Analyst
After earning a bachelor's degree in International Trade at Saint Jerome University in Marseille, France, Zahi joined CMA CGM at their corporate headquarters in Marseille.  Zahi relocated to the United States in 2002 where he continued to work for CMA CGM, later joining Zim Line.  He has worked in operations, auditing, cost recovery and is also a licensed Customer Broker.  Zahi joined Century Express Virginia in 2018.

Tanya Verhelle
Disptach Team
Tanya was raised in Alaska and then relocated to Oregon as a teenager.  She started working in the transportation industry in 1998 with jobs ranging from driving over the road trucks, truck brokering, CMA CGM customer service and the shipment diversion desk.  Tanya graduated from Old Dominion University with a Bachelor of Science degree in Supply Chain Management.  She has worked at Century Express Virginia on the dispatch team since 2018.  She enjoys spending time cultivating all types of vegetables and flowers in her garden and has a small gang of very entertaining chickens.
Peter Koloski
Pricing Team
Pete has been with Century Express Virginia since 2016 managing the customer pricing and supporting the transloading team.  Prior to joining Century Express, Pete has worked for a number of ocean carriers in a range of management positions including trade, pricing and capacity.  Pete earned his Bachelor of Science degree from the College of William and Mary, and his MBA degree from Montclair State University. Pete enjoys spending time outdoors gardening and working on his golf game, as well as spending time with his family.
Mike Innes
Dispatch Team
Mike served 4 years in the US Navy and then went on to become a Ship Boarding Agent in the Port of Virginia.  Mike Joined Century Express Virginia in 2012 and is not only part of the Dispatch Team, but also manages our multiple yards and our Century Express owned trailer fleet.  Mike likes to spend his weekends in Deltaville, Virginia and is an avid sailor who has participated in numerous competitive sailing events.
Jordan Kuhlhoff
Dispatch Team
Jordan joined the Century Express Virginia dispatch team in 2022 and is responsible for the entry of all customer work order detail as well as tracking and tracing our customer's shipments.  Jordan has an associate degree from Tidewater Community College and is currently working towards her Bachelor of Arts degree from Old Dominion University.   When Jordan has free time, she enjoys reading, art and drawing.
Molly O'Callaghan
Pricing Team
Molly has been with the company since 2021 and is a member of the Pricing Team.  Molly also manages Century Express's media marketing.  When not at work, Molly enjoys yoga, astrology, hiking and meditation.  She is also taking Supply Management and Digital Marketing classes offered by Virginia Wesleyan University.
Bradley Rose
Brokerage
Bradley joined Century Express Virginia in 2023 and is expanding Century Express's brokerage business.   Bradley has been in logistics for 20 years.  He has held positions in warehousing, shipping, dispatch, and operations management.  Bradley lives by the beach and spends much of his free time outdoors mountain biking, paddleboarding and golfing.
Brooke Deems
Operation Management
Brooke's career began in the airline industry in customer service, but in 2002 she joined CMA CGM launching her career into various ocean carrier positions that included truck dispatch, rail billing and M&R.  Brooke has been with the company since Century Express's first shipment in 2007 and she manages all aspects of Century Express's operations. Brooke is very involved in the trucking/maritime community as a board member of the Tidewater Motor Transportation Association (TMTA) and is a member of the Virginia Maritime Associations (VMA) Future Leader.